Although it is the Valentine 's campaign of "ship this" and "Lawson" in the campaign now,
Original goods started today from 2/6 today so I bought it right away!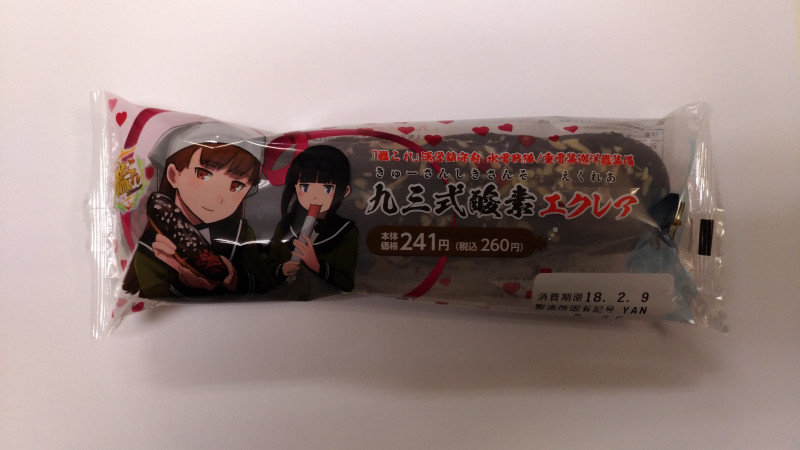 Ninety three formula oxygen Ecureatt! ! !
A package of landmarks marked by "Oi" and "Kitakami" of the heavy weather cruiser.
Mr. Kitagami made love for Mr. Kitagami, Okai with a little squatting face holding Eclair,
Mr. Kitokami who is hoarting Eclair and cheeks is cute! !
● Calories and carbohydrates to worry about, but …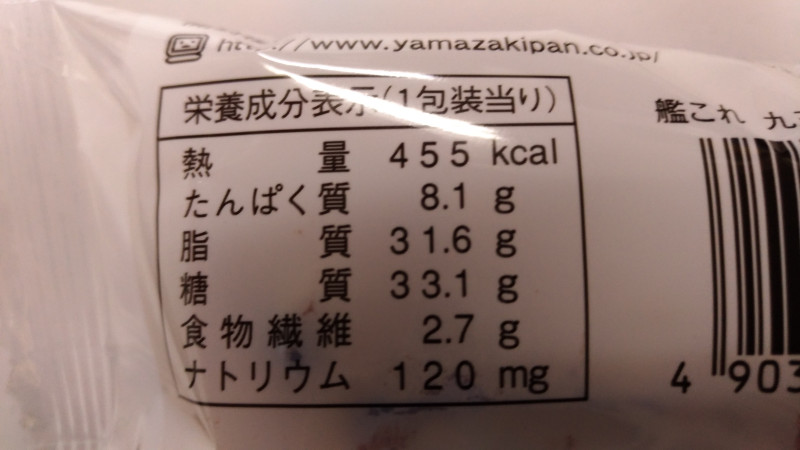 It is like this.
For sugar restricted sugar, this sugar, burning …!
● I tried opening!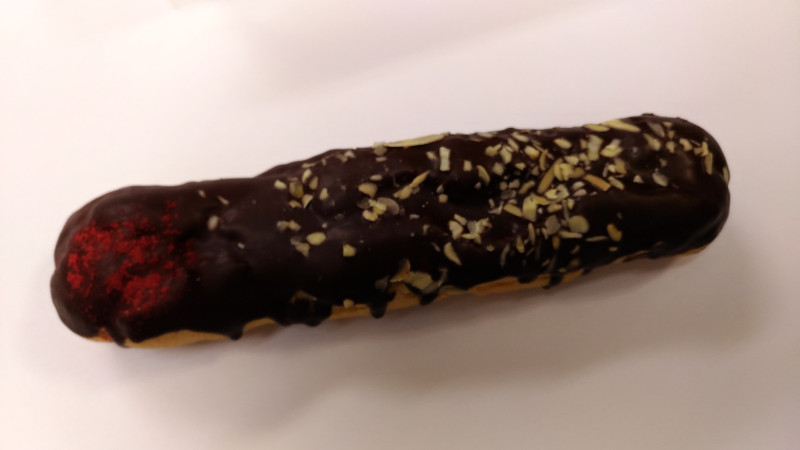 It looks like this.
Almonds are topped with large eclair which imaged oxygen torpedoes.
Who is the red one on the left? ! Looks spicy! !
I thought that it was strawberry powder.
I thought it was somewhere for a moment but it seems to be imagining the warhead part of the oxygen torpedo! I see!
● The contents are like this!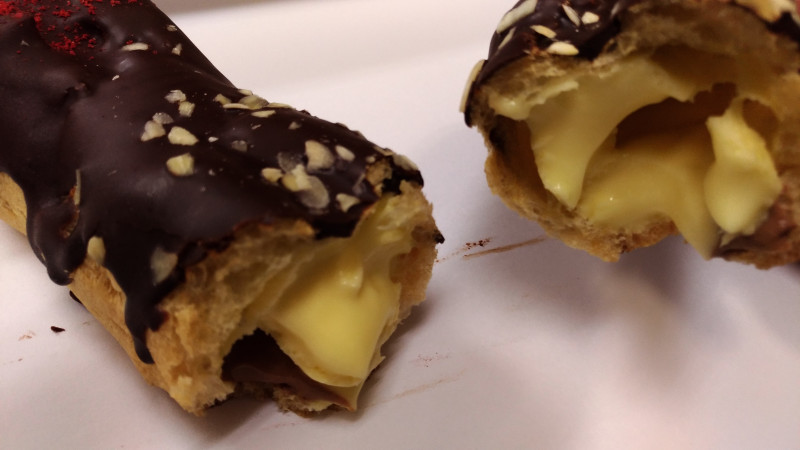 Custard cream on the main part of the torpedo,
Chocolate claim is in the warhead part!
(It is a little confusing, but the bottom of the image is the chocolate cream)
It is becoming tasty Eclair twice at once!
(Because there are parts of strawberry powder, it may be delicious three times four times!)
When you try to eat it …
Sweet
Excellent …!
Although it seems to be terrible, I am sorry it is because sugar is restricted …!
It is sweet! Good luck! good! Good luck!
It is slightly heavier because it is a larger Eclair than normal.
Heavy, heavy …!
Oi's love is heavy …!
I wonder if Kitokami is feeling like this …!
While thinking that it is complete with pelori.
Although it is quite a volume,
I want to eat sweets! I think whether it is perfect.
"Ship" This game's next event is scheduled to start February 16 (Friday).
Since Okai and Mr. Kitokami are active in big wheel every time,
Why do not you try praying for Torpedo cut-in by eating Nine Type 3 Oxygen Eclair!
In addition to here, the original product,
Supply of one navy grape jelly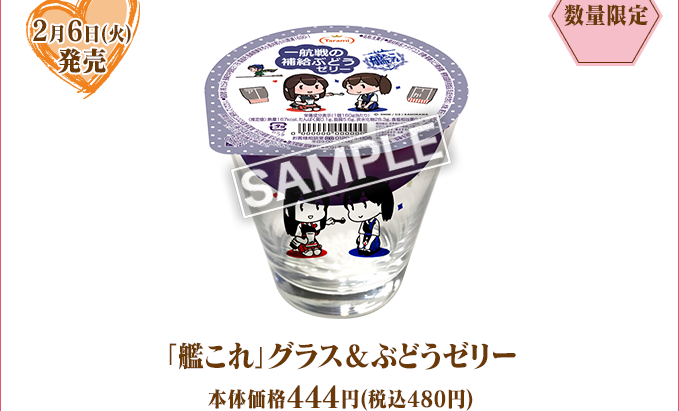 This is also under development.
It is a jelly with a cute glass of Akagi and Akagi and Kaga.
Jelly with glass has high competition rate every time,
If you found out please make sure!
* 2/7 Additional notes
● Jelly has also secured! !
(It was the last one at Lawson who came home.)!
The label looks something like this.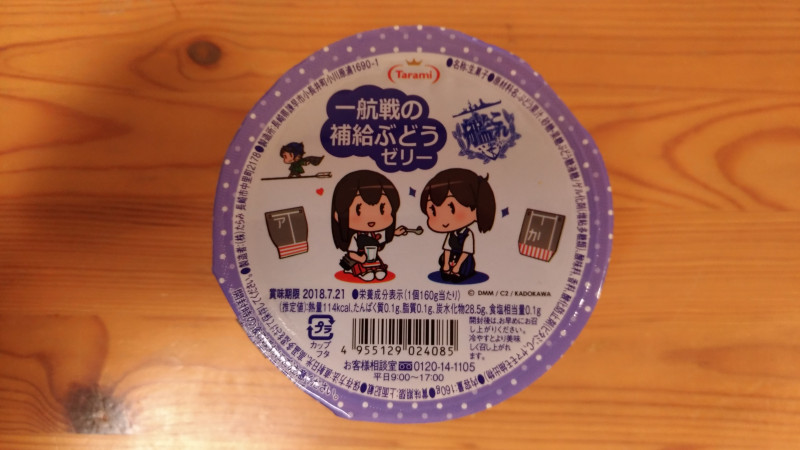 Calories concerned are 114 kcal,
Carbohydrate is 28.5 g
… It is a mass of carbohydrates, this guy!
● The design of the glass …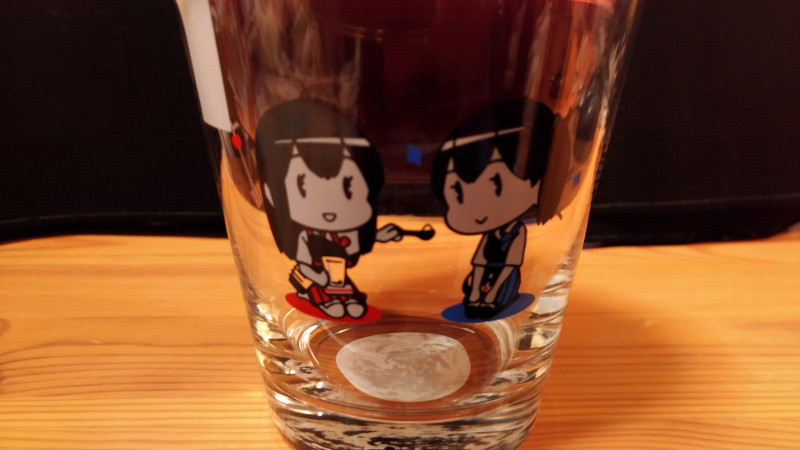 "One navy game Kaga, I will eat!"
"One cruise Akagi, let's eat !!"
What is this pretty personality.
This composition that Akagi san who settled as a glutton character in this area no longer carries food to people …
I can not help feeling something stuff!
Speaking of gluttonatic Akagi-san,
In the past, Akagi exclusive 1kg curry is also a thing …
(From the official site most frequently)
● Other designs on the side of the glass!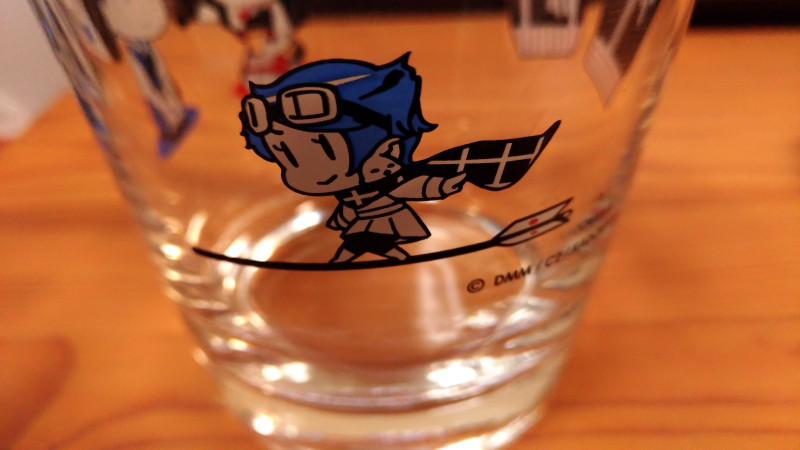 It seems to be a fairy of type 0 warship 21 type!
The shoulder birds are at a loss …!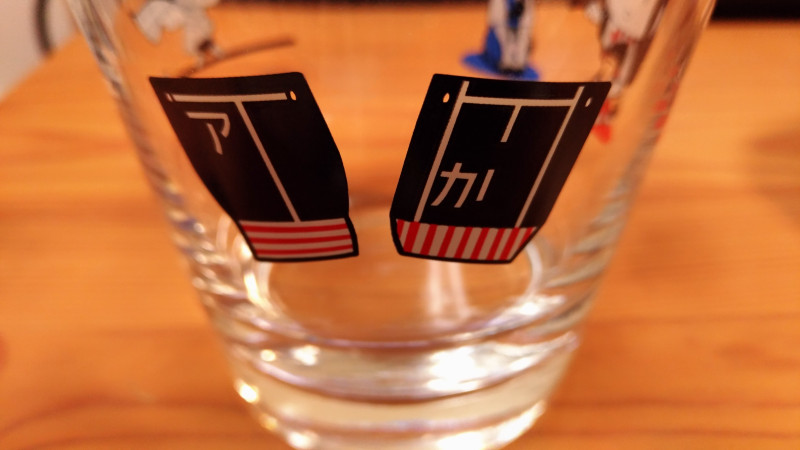 It is a flight deck of Akagi · Kaga.
This is also deformed cute.
● Who is the taste of jelly …?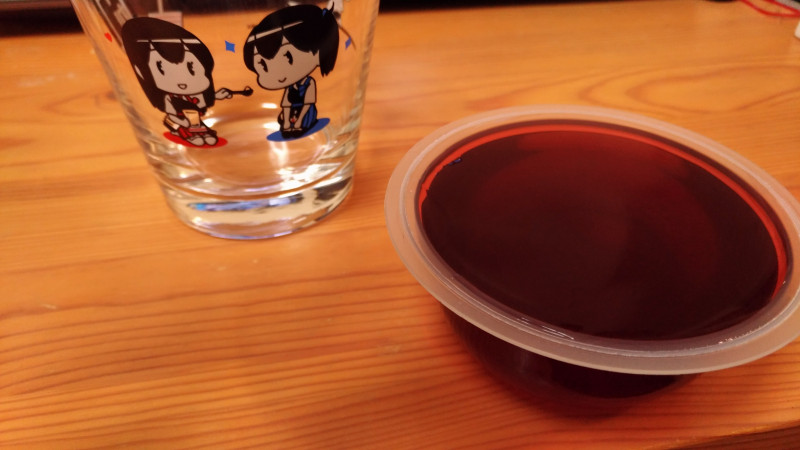 It is a very ordinary looking jelly with the feel of the jelly with grape flavor.
There is no grape fruit or something in it.
so,
"I will get it!"
…
What to say, not too sweet, even if it is bad or delicious …
"This taste, it is hard to do anything!"
Not so much, just a petty carbohydrate 28.5 g ….
If so, so …
Shokugan no Ramune?
Is not it…!
Well, well, as the glass is main here! So!
Very cute glass! I also have jelly at it! I did it.
Although I tried to go around a few of Lawson, because there were also many shops which I did not have,
Come on when you see it!
Event Details
https://www.lawson.co.jp/campaign/kancolle/