出典 : Amazon.co.jp
Popular voice actor Yuki Kaji's top 10 most popular characters that he has played up to now!
Since his debut in 2004, he has remained a top voice actor for a long time, but which character is his best work?
No.10:Arata Shindou
出典 : Amazon.co.jp
He is one of the W protagonists of PSYCHO-PASS Psycho-Pass 3, which aired in the Noitamina slot in the fall of 2019.
He is a rookie surveillance officer assigned to the Public Safety Bureau's Criminal Investigation Division, Section 1, who holds a Special A-class Mentalist certification and uses "mental tracing," which is the ability to search for information on victims and suspects by pretending to be in their mental state at the time of the incident, to solve cases.
He is an aloof and good-natured character, and his conversational skills as a mentalist make him very good at interpersonal investigation.
Since his debut in 2004, Kaji has played many roles in a variety of voice colors, but the characters with a sense of justice and honesty seem to be particularly prevalent.
Other than Shakira, he also plays Koichi Hirose from "JoJo's Bizarre Adventure" and Ryuichi Naruhodo from "Ace Attorney".
No.9:Adol Christine
出典 : Amazon.co.jp
A red-haired adventurer who has been the protagonist in the Ys series for more than 30 years since the first game in 1987.
He is a fierce warrior who has completed many adventures, repeatedly falling down, suffering amnesia, and snapping flags with many beautiful women in the process.
He is quite a good-natured person and cannot abandon those in trouble, and has been involved in many incidents and mayhem.
Adolu was originally known for his role as Trunks in "Dragon Ball", Takeshi Kusao, and "Little Busters! The character has been played by several voice actors, including Yusei Oda, who plays Kengo Miyazawa, and Kaji was first given the role in Ys Celceta no Jukai.
Normally in such cases, it is difficult to establish an image among fans, as the impression of his predecessor inevitably remains strong, but with the 2016 release of Ys VIII -Lacrimosa of DANA-, which became an exceptionally long seller in Japan and abroad, "Kaji Adol" quickly became established.
No.8:Issei Hyoudou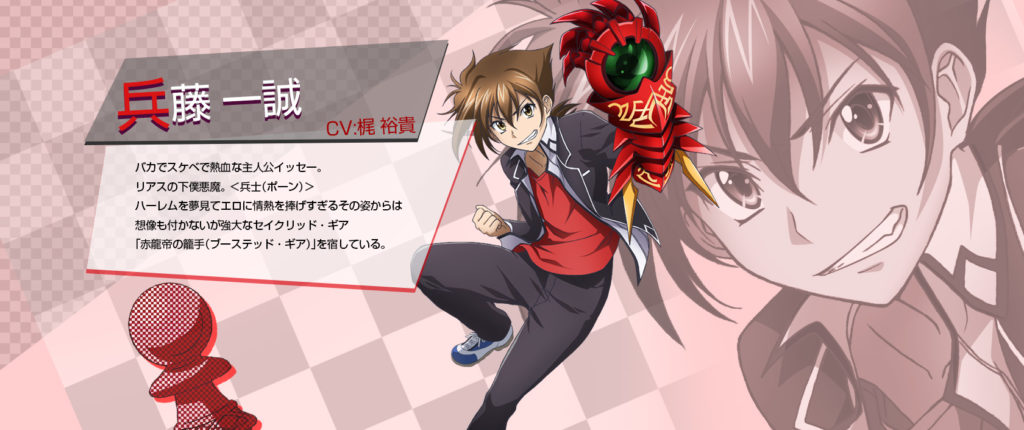 (画像引用 :『ハイスクールD×D ソーシャルゲーム』公式サイト https://www.marv.jp/product/hsdd/)
He is the protagonist of the male-oriented anime High School DxD, and his real name is Issei Hyodo Issei.
He is a genuine erotic student, and although he lost his life once, he was reincarnated as a demon by the main heroine, Lias Gremory, and since then he has been living a harem life surrounded by heroines of various races while fighting powerful enemies.
Since his first starring role in "Over Drive", Kaji-san has had more opportunities to appear in works that are geared more towards women than men, but he has also played the main character in harem-type anime based on light novels.
Aside from "Issei," he has also played the main character in "Row Kyuubu! Subaru Hasegawa, The Hentai Prince and the Cat That Doesn't Smile I've been playing a lot of roles in the movie "The Kinky Prince and the Cat that Doesn't Laugh", Yohito Yokodera.
However, in recent years, such roles have become rare.
No.7:Sabito
出典 : Amazon.co.jp
A character from The Blade of Annihilation, which became a historical hit and reached its conclusion at the height of its popularity.
He was the sibling of the protagonist, Kamado Tanjiro, and was an expert swordsman and water-breather just like Sumjiro, but in fact, he had already died, and it seems that he was already a spirit when he taught Sumjiro swordsmanship.
Although not a main character, the explosion in popularity of Onibyū made Rusty Usagi more famous than the other main characters in the series, and she became one of the most famous roles in recent years.
It's an unusual role in Kaji's career, as he has played the main character in almost all of his works since he became famous.
No.6:Kenma Kodume
出典 : Amazon.co.jp
She is the setter of Ondeko High School's volleyball club, the rival school of Karasuno High School, the protagonists of "Hi-Q! She is a setter of Ondeko High School's volleyball club, which is the rival school of the main character, Karasuno High School in "Hi-Que!
In contrast to her flamboyant pudding head, she has a very clever style of play and was not very motivated at first, but it was during the Spring High School match against Karasuno that she discovered the joy of volleyball.
After graduating from high school, she is active in various scenes as a trader, professional gamer, YouTube star, and CEO of a company while attending college.
Kaji often plays good-looking young men and hot-headed protagonists, but he also has a reputation for playing low-tension characters like this grinding and Kuro from "SERVAMP".