引用:blogimg.jp
"A Certain Magical Index", which is said to be the most popular light novel of all time, will finally make its debut in pachinko halls.
This shocking news must be of interest not only to pachinko fans, but also to anime fans.
In this article, I will introduce the specs and target areas of interest when "A Certain Magical Index" appears in pachinko.
What is A Certain Magical Index?
The story is set in a place called Academic city, which is divided into the "science side," where modern machines continue to develop, and the "magic side," where magic is controlled by ancient occult and religious beliefs.
One day, the main character of the story, "Kamijou Touma," who lives there, meets a girl on the balcony of his room.
The girl's name is "Index" and she tells Kamijou that there is a "reason" to this world.
From the day he learns of this, Kamijou and Index enter a world where science and magic intersect, and because of this, he is forced to live a busy life, with attempts on his life and battles.
How Kamijo deals with the assassins who creep into his confidence in the school city is the highlight of this work.
A Certain Magical Index Spec Overview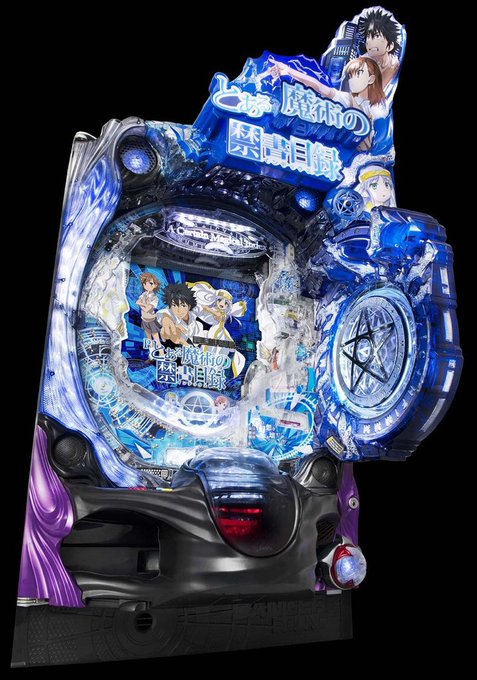 引用:twimg.com
Odds of hitting a jackpot: 1/319.6 (1/99.9 when ST is changed)
ST entry rate: 100
Number of STs: 154 (including 150 with electric support)
ST duration rate: approx. 79
Play Time: 800 times in normal play (1,214 times in short play)
Number of balls awarded: 1, 2, 5, 10, 15
Rounds: 4R or 10R
Jackpot Breakdown
4R 100% when hitting the "Heso" button
4R: 10R 30%: 70% when the machine is hit by an electric heater
Payout: 360 to 400 for 4R, 1,400 to 1,500 for 10R
4 yen pachinko border: 16.5 (for equivalent exchange and payout as indicated)
1 yen pachinko border: 14 (200 shots, equivalent exchange, payout as indicated)
A Certain Magical Index is a very sweet platform!
The specs of this machine are noteworthy in that the rate of entry is 100%, but the rate of continuation is 79%!
In addition, the machine has "play time", so even if you get into a big trouble, you can play up to 800 rotations.
Because of this, the borderline (the number of revolutions per 1,000 yen that can win the game in total) is 16.5!
Theoretically, you can't lose if you hit a machine that turns more than 17 revolutions per 1,000 yen without thinking about difficult things.
Theoretically, you can't lose if you hit a machine that rotates at least 17 revolutions per 1,000 yen, without thinking too hard. There are other factors involved, such as spills when hitting the right side, so it's better to hit a machine that rotates as much as possible, but even so, I think the sweetness of this machine is unparalleled in recent years.
Kamen Rider Todoroki," which came out a while ago, is also said to be sweet because it has the possibility of entering a short period of time after the end of a certain change, but the rate of entering a certain change is 50%.
Although the continuity rate is inferior to that of "Index of Forbidden Books," it is still more stable if the hurdle to increase the payout is low.
Instead, the return from the navel is one. The problem is how the shops handle it.
The problem is how the stores handle it… The machines with playtime tend to be lax, and the nails are very tight in all stores.
The same can be said for the "Index of Prohibited Books".
Even if the probability of entering a certain change is 100%, you will lose a lot of money if you spend 10000 yen and the machine only turns 100 times.

引用:slo-matome.com/
What is the pachinko version of the ceiling "playtime"?
Playtime is a function similar to the ceiling in slots, and is a remedy that is entered by playing a certain number of times during normal times (a state in which the probability of winning a pachinko jackpot is low).
For those who have played slots before, the term "ceiling" will be familiar to you.
This makes it possible to hit a machine that is almost ready for the playtime to start, or to play a machine that is not only addicted, but also has an upper limit to the investment until the first hit. On the other hand, since the specs of machines with playtime are inevitably lax, there is a disadvantage that the nails are tight.
This depends on how the store handles it…
Target
I will introduce the aim of pachinko Toaru Majutsu no Index from three different perspectives.
Let's take into account 154 rotations after ST completion and 800 rotations during normal time together
In order to enter the play time, you need to play 800 rpm in normal time.
However, the digital display differs from hall to hall.
So here are two possible cases.
The first is a case where the number of rotations during ST is displayed independently, and when the ST ends, the display of the number of rotations returns to zero in the process of returning to normal time.
In this case, it is simply linked to the number of games in the pachinko machine.
Also, the countdown starts 100 rotations before the entry of playtime, so the countdown starts at the 700th rotation.
The second case is that the machine takes over the number of rotations during ST and counts the number of rotations as it is until the jackpot comes when it returns to normal time.
In this case, the machine will not enter playtime even if it reaches 800 rpm, and the countdown will start at the 854th rpm.


引用:slo-matome.com
If you want to play with a 4 yen pachinko machine, I recommend that you play at least 600 rpm during normal time
First of all, when playing pachinko, one of the things to aim for is how many shots you can get into the starting chukker for 1,000 yen. This is the so-called border.
Generally speaking, if you ignore the exchange ratio, you can aim for 18 to 22 rpm.
If you are playing in anticipation of the play time, if you calculate 20 revolutions at 1,000 yen, you will need to spend exactly 10,000 yen to benefit from the play time.
If the ST duration is about 79% and the ST ends after 4 jackpots, the total payout for 10R and 4R is 3,500 rounds, the equivalent exchange rate would be 14,000 yen, which is a little more than your money.
However, if you are playing for 1,000 yen and less than 10 rotations, you need to reconsider your strategy.


引用:slo-matome.com
What about 1 yen pachinko?
The concept of aiming is almost the same as in 4 yen pachinko, but the difference is that you can play 1,000 shots for 1,000 yen.
It is also different from 4 yen pachinko in that you can play without feeling too much of a financial burden.
I think it would be a good idea to play a machine that rotates 15 times per push (for 200 yen).
Target the next day!
Now that I've given you a few things to aim for, I'd like to end by suggesting you aim for the next day!
The number of rotations up to the playtime is inherited even when the pachinko machine is turned on and off.
In other words, a machine that closed after reaching 500 rpm the day before will internally start at 501 rpm the next day.
This is not an exception, of course, not only for the Forbidden Catalogue, but also for machines equipped with playtime, so you can use this to your advantage when playing pachinko in the morning.
For example, on the way home from work the day before I decided to go to my house tomorrow, I walked into a pachinko parlor and checked out the machines that were hooked.
If you can, you can stop at 400 or 500 rpm.
If possible, take note of the machines that have been stopped at 400 or 500 rpm, so that after you play a machine that has been stopped at 700 rpm, there may be a machine available that has been stopped at 200 rpm with no jackpot.
If you try to limit your investment in this way, you may find that you don't lose as much money in total as you thought…!
Caution
Turning the power on and off will not reset the RPM, but clearing the ram after the store closes will reset the RPM.
However, if a shop clears the ram after we close, the RPM will be reset. Some stores do this and some don't, so you need to find out if the hall you are going to does.
However, at this point, I don't think there are many halls that do this, so I don't think you need to worry too much.
Summary
A Certain Magical Index is scheduled to make its debut in halls on November 2nd from Fujisho.
In addition, there are four types of effects that can be selected during ST, so you can enjoy each one.
The game comes with a playtime function, which will give you a chance to enjoy the game when you are stuck in the game.
The game incorporates many episodes from the original story, and you may find yourself on the edge of your seat.