Big boobs are the key nutrient for healthy boys!
I'm sure many girls would say they like animated characters with big boobs.
So here's a recommendation for an anime with an attractive big-breasted character!
We've graded the anime outlines and recommendations on a 10-point scale, so you can use it as a reference when watching.
Kenichi, the greatest disciple of all time

引用:amazon.com
It is an anime adaptation of a manga that was serialized in Weekly Shonen Sunday.
The protagonist is Shirahama Kenichi, a freshman at Desolate High School. The story is about the protagonist, Ken-ichi, who has a sense of justice more than any other person, but is a bully by nature.
It is a success story of training his martial arts and spirit through encounters with various friends and enemies in order to become a strong person who doesn't turn a blind eye to the fact that he is a weak person in trouble.
However, the martial arts masters in this anime are tough and the female characters are drawn in a sexy and feminine way.
The heroine Fuurinji Miu and Kosaka Shigure, who lives in Liangzamari, are dressed in tight tights, naked and in chainmail with a loincloth, and many of the outfits that emphasize the female line are eye-catching for men.
The anime version is less stimulating, so if you are looking for more stimulation, I would recommend the comic version. So I'm going to give it a low rating.
Recommended :☆☆☆☆☆☆
Kill la Kill

引用:amazon.com
The protagonist is a high school girl, Suma Ryuko. She enters Honnouji Academy as a clue to find the owner of the scissors that drove her father to death. There, she engages in fierce battles with the student council president and his friends, who acquire special abilities by wearing clothes.
In the battle scenes, there is a scene where the defeated opponent always gets completely naked. This is the case for both men and women.
The characters in the show are almost completely naked and it is extreme.
I give it a low rating because I don't feel it is very erotic despite the amount of exposure.
Recommended :☆☆☆☆☆
Achromatic Phantom World

引用:amazon.com
This work is an anime adaptation of a novel published by KA Estema Bunko.
In the beginning of the 21st century, in a world where unorthodox powers such as monsters, goblins, monsters, and legendary animals spread, the main character, Ichijo Haruhiko, a first year high school student at Hosea Academy, goes to exterminate ghosts called "Phantoms".
This work depicts the coming of age and battles between boys and girls with an alien Phantom and an alien ability.
The dance that the heroine, Mai Kawakami, performs before the battle, which seems to emphasize her boobs, is a scene that is noticeably erotic and attractive.
Recommended :☆☆☆☆☆☆☆☆
Senran Kagura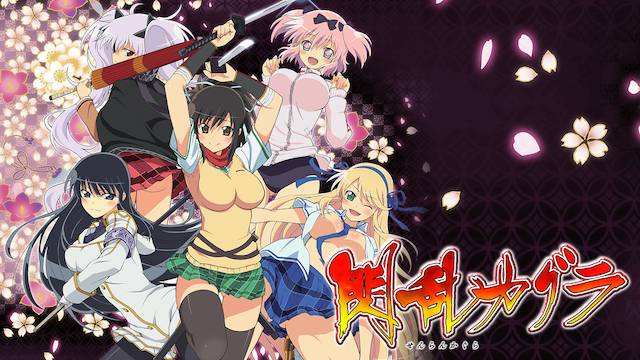 引用:imgc.nxtv.jp
It is a school anime that depicts youth and heated battles of girls who aim to become ninjas.
The genre of the anime is called "Hyperboobie Battle" and several girls with sexy breasts are drawn. The scene where these girls fight while shaking their boobs is a must see!
Recommended :☆☆☆☆☆☆☆☆☆☆
そらのおとしもの

引用:amazon.com
It is a work that is an anime adaptation of the manga that was serialized in Monthly Shonen Ace, written by Suu Minazuki.
An angel girl Icarus, an angelic girl, appears from the sky to Tomoki Sakurai, the main character living in Sorami town. This encounter leads to the appearance of androids with various special abilities from the sky. This is a story about Tomoki Sakurai, the slightly naughty protagonist who is seeking peace, and the extraordinary reality of androids.
The androids' swaying breasts falling from the sky and the prank scene that the main character Tomoki Sakurai shows to the girls are very extreme and erotic.
Recommended :☆☆☆☆☆☆☆☆
High School DxD

引用:amazon.com
It is a popular anime that has been made into a series of 4 works as a sexy big-breasted anime. The main character is Hyodo Issei, a high school boy who goes to a private school with many female students.
Hyodo Issei becomes the servant of the most beautiful girl in the school, Rias, and gets involved in a battle with demons.
The sight of girls with big boobs fighting desperately is a must-see.
Recommended :☆☆☆☆☆☆☆☆☆☆☆
To Love the Darkness

引用:amazon.com
It is the anime version of the popular manga that was serialized in "JUMP SQUARE".
It is a harem anime in which the main character, Yuki Rito, gets the favor of three princesses who came from outer space and tries hard to get them to like him by some kind of trick.
It is a must-see as the cute characters designed by Yabuki Taro, who worked on the drawing of "BRACK CAT" were faithfully reproduced in the anime.
Recommended :☆☆☆☆☆☆☆☆☆☆
トリアージX

引用:amazon.com
This anime is like a modern day version of a must-attend workman.
Black Label is a secret organization that triages (selects) the evils of this world that cannot be judged by law as malignant tumors and buries them in the darkness.
The protagonist is Mikami Arashi, a member of Black Label. In this anime, the protagonist is a member of Black Label and chooses the evil of this world and implements justice.
The female characters are very revealing and some of them have breasts that you would not expect from a high school student.
The only basic female characters are whip-smart, big breasted girls.
Recommended :☆☆☆☆☆☆☆☆☆
マケン姫っ!

引用:amazon.com
It is an anime adaptation of a manga that used to be serialized in "Dragon Age".
The setting is Tenri School, a former girls' high school that has just become co-educational.
The battle scenes that take place there and the extreme depiction of the girls are a must see.
The happening erotica that seems to happen in the school is an anime that has a lot of effort in depicting extremes in particular.
Recommended :☆☆☆☆☆☆☆☆☆☆
 Manyū Hiken-chō

引用:amazon.com
This is an anime version of a manga that was originally published in "Tech Gian".
Milk is the reason for this world. The stage is set in a world where the inexcusable law of "breast is the reason of this world, abundant milk is wealth and absolute, poor milk is not" is prevalent. It is a story in which the main character girl, Mamayu Senbou, solves the cases related to milk while traveling to various places.
Just like the title of the anime, it is an anime that has a lot of boobs.
Recommended :☆☆☆☆☆☆☆☆☆☆
Freezing

引用:anime-hiroba.com
It is an anime work based on the manga serialized in "Comic Valkyrie".
It is set in "Generaletics", a school that trains girls who have the power "Pandora" to fight against "Interdimensional Nova", an obacject of another dimension that attacks humanity.
The battle scenes of the girls depicted in extreme detail are a must-see.
Recommended :☆☆☆☆☆☆☆☆☆
New Sister Demon King Contractor

引用:amazon.com
One day, the protagonist, Hagakure Tojo, takes the opportunity of his father's remarriage to add to his family.
The family is a younger sister, and the younger sister is actually a demon. With the increase in the number of younger sisters, Edakira gets caught up in the battle between the demon tribe.
From the very beginning, there is a female character with a no-bra tank top, a naked apron and an extreme figure.
Recommended :☆☆☆☆☆☆☆☆☆
Healthy Robot Daimidaler

引用:googleusercontent.com
ロボットアクションアニメです。
突如として現れた「ペンギン帝国」を名乗る悪の組織が、巨大ロボットを操作して地球上の人類にひどい迷惑をかけていた。
主人公真玉橋孝一は、エロさだけの生きがいのスケベな男です。
そんな男がペンギン帝国に対抗できるロボットダイミダラーのパイロットに任命されます。
ダイミダラーに乗って悪の組織ペンギン帝国に立ち向かっていくアニメです。
戦闘シーンや日常の生活シーンに要所要所に如何わしい画像が組み込まれています。
オープニングの錆の部分では、おっぱいが物凄い揺れています。
Recommended :☆☆☆☆☆☆☆☆
天上天下

引用:ogre.natalie.mu
It is an anime adaptation of the manga that was originally published in Ultra Jump, written by Ogure Korehito.
It takes place in the To-do Academy, a school with a one hundred and forty year history, where children of martial artists from all over Japan attend.
The main characters Nagi Soichiro, Natsume Aya, and other members of the jujutsu club fight against the executive committee that controls the school with its strong power. It is a battle romantic comedy work where the hero and Natsume Aya come to terms with their fate through battle and the love between them.
It is a work that depicts a lot of sexual scenes as well as battle scenes.
Recommended :☆☆☆☆☆☆☆☆☆
Ride as a thousand at once

引用:team-max.co.jp
It is an anime based on a manga that has been popular since its serialization in 2000.
It is an anime in which unique characters, who inherited the fate of a military commander of the Three Kingdoms, fight for supremacy in order to control the world.
In the battle scenes, the girls' clothes are peeled off, and the work is attractive for its sexy direction.
Recommended :☆☆☆☆☆☆☆☆☆☆
In the town where you are

引用:eximg.jp
It is an anime work based on the manga written by Seo Kimiharu, which was serialized in Weekly Shonen Magazine.
It is set in the author's hometown of Shobara City in Hiroshima Prefecture, and it is a work that depicts a moment of sweet adolescence for the students centered around the main characters Kirishima Seida and Edaba Yuzuki.
There are some erotic elements interspersed in the work such as panties and bathing scenes of the women.
Recommended :☆☆☆☆☆☆☆☆
A crafty girl never gets hurt

引用:amazon.com
This work is an anime adaptation of a light novel published by MF Bunko.
At the Royal Academy of Mechanical Engineering in England, a battle to determine the top "Demon King" of puppeteers, commonly known as the "Night Party", is being held. In order to qualify for the night party, the main character Akaba Raima and his partner, Yaya the puppet master, who is a foreign student from Japan, will fight a duel to get the qualification from the participants of the night party.
It is an anime that depicts the school battle love comedy of magician Akaba Raima and Ningyo Yaya.
There is a scene where a naked girl appears at the ending and a woman's breasts are exposed, and it is an anime that contains a bit of erotic elements. A crafty girl never gets hurt.
Recommended :☆☆☆☆☆☆☆☆
Zettai Shougeki~PLATONIC HEART~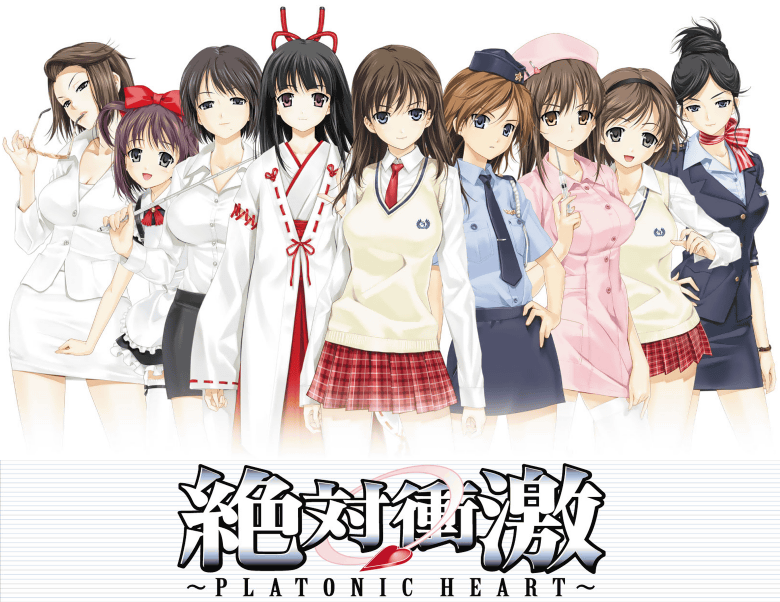 引用:gzn.jp
There is an urban legend that if you collect the phantom jewel "Platonic Heart" your wish will come true, and a battle for the jewel will be held for women only.
The protagonist, Aya Iseshima Aya, has never had anything to do with this urban legend, but when she stumbles upon a scene of a battle, she gets involved in the battle.
This work depicts a heated battle between women. The last part of the work surprises the audience by ending with a shocking development.
The point of interest is that it is made in such a way that the clothes will always be torn off in the battle scenes of the women, and the sexy battle situations are contents that cannot be taken away.
Recommended :☆☆☆☆☆☆☆☆☆
A boring world where the concept of a bottom line doesn't exist

引用:hayabusa.io
The story takes place in a world where sexual language and expressions have been eradicated from Japan due to the passage of the Public Order and Morals Law. The protagonist, Okuma Raccoonkichi, becomes a member of SOX, a terrorist group with a vulgar joke, after a perorist who calls himself "Blue of the Snowfield" gets a hold of his weakness. The story is about the concept of "vulgarity" and the battle between students who struggle to be serious when there is too much goofiness.
The boob element is expressed in the extreme description of the student council president's perverted behavior, which is the highlight of the work.
Recommended :☆☆☆☆☆☆☆☆
 Interspecies Reviewers

引用:eximg.jp
It is an anime of otherworldly reincarnation, and the world is a world where all kinds of different races such as elves, beastmen, demons, and angels are mixed together as well as humans.
It is an anime in which the human adventurer Stank, who frequents the cabaret and sex clubs in the other world where various races exist, introduces and evaluates the sex clubs of various races under the title of inter-world exchange.
Usually in otherworldly adventure type of anime, there is an epic adventure or battle, but this anime is about the main characters going to the brothel to receive and evaluate the service.
If you simply want to watch girls with big boobs, this is the anime for you.
Recommended :☆☆☆☆☆☆☆
Sin The Seven Deadly Sins

引用:amazon.com
After being guilty of "arrogance" and disobedience to God, the Archangel Lucifer was cast into hell and became a fallen angel.
Having fallen to the lowest level of Hell, Lucifer encountered the jealous Demon King Levitan.
Levitan leads him to the Manmaiden, where the Demon King of the Seven Deadly Sins, who rules Hell, awaits him.
It is a battle anime where the demon kings of the seven deadly sins are confronted in order to rule the fallen hell.
In the terrestrial broadcast version, there are restrictions, but the restrictions have been lifted in the DVD version.
The pictures are beautiful and the visuals are well made.
Recommended :☆☆☆☆☆☆☆☆☆
VALKYRIE DRIVE-MERMAID-

引用:amazon.com
A young girl, Mamoru, is transported to an island called Mermaid, and when she realizes it, she meets an attacker and is in trouble. There, a new girl, Shikishima Meshi-Rei, is transported to the island.
The girl who has been transported there, Mamo, has been transformed into a weapon, and the girl, Meshiero, who has it in her hand, fights against the aliens who appear one after another.
The battle scenes with beautiful girls that appear one after another and the battle scenes are full of sexy scenes with their clothes coming off.
Recommended :☆☆☆☆☆☆☆☆
Bikini Warriors

引用:amazon.com
This is a story about the daughter of a hero, a fighter, a wizard, a paladin, and four dark elves who once saved the country, and the king's order to protect them from the danger of the world's destruction.
In this anime, female characters of various professions wearing bikinis battle in the fantasy world of RPGs.
It is a short animation of 5 minutes in length.
Recommended :☆☆☆☆☆☆☆
Hyakka Ryouran Samurai Girls

引用:amazon.com
This work is an anime adaptation of the light novel novel written by Akira Suzuki, published by Hobby Japan.
The story takes place in the year of Heisei 20, in the giant Bukei Gakuen School, which was opened by the Tokugawa shogunate that ruled Japan for a long time.
In this school, girls who have taken over the names of historical warriors appear and a battle for their pride as warriors takes place in this battle anime.
The sexy action of the gorgeous characters is very attractive.
Charcoal hidden in the regulations that suppress the extreme depictions, the part that is exquisitely hidden shows the eroticism.
Recommended :☆☆☆☆☆☆☆☆
Apocalypse HISCHOOLOFTHEDEAD

引用:amazon.com
It is an anime adaptation of the manga that is currently being serialized in "Dragon Age".
It is a suspense horror type of anime where high school students are trying to live in a world where people have become the living dead.
There are girls with big boobs, but it is a little more scary than erotic.
Recommended :☆☆☆☆☆☆
Stigmata Quasar

引用:amazon.com
It is an anime version of a manga that was serialized in "Champion Red".
It is a battle action anime in which alchemists and quasars who can recover their power by getting "Holy Milk (soma)" from women's breasts.
The scene that emphasizes the eroticism of getting holy milk from a woman is a masterpiece.
The novel setting of sucking and fighting with women's breasts is an anime that expresses the eroticism in a radical way.
Recommended :☆☆☆☆☆☆☆☆
Queen's Blade Rebellion

引用:amazon.com
This anime is based on the original work of the visual book "Queen's Blade" published by Hobby Japan.
It depicts the pride and life-and-death battles of female fighters who participate in the "Queen's Blade", a competition to determine the strongest and most beautiful women.
The contestants are not only warriors, but also maidens, angels, and other cute women, and their sexy actions are a must-see.
Recommended :☆☆☆☆☆☆☆☆
Sekirei

引用:amazon.com
Es handelt sich um eine Anime-Verfilmung eines Manga, der in "Young Gangan" serialisiert wurde.
Dies ist ein wunderschöner Mädchen-Schlachtanime, in dem 108 Kriegerinnen "Sekirei" gegeneinander kämpfen, bis in der letzten Episode Sahashi Minato und seine Sekirei Yui in einen Plan von Wetteinsätzen verwickelt werden.
Während die Kämpfe weitergehen, tauchen in der Geschichte verschiedene Arten schöner Mädchen auf, die Freunde der Hauptfigur Sahashi Minajito werden.
Der Höhepunkt des Animes ist die romantische Komödie zwischen Sahashi Minajito und Sekirei, die sowohl sexy als auch interessant ist.
Übersetzt mit www.DeepL.com/Translator (kostenlose Version)
Recommended :☆☆☆☆☆☆☆☆
Kanokon

引用:amazon.com
Es handelt sich um die Anime-Version des leichten Romans von Nishino Katsumi.
Es ist ein romantischer Komödienanime, in dem zwei Heldinnen, Minamoto Chizuru, ein wunderschönes Mädchen der Schule mit sexy und niedlicher Erscheinung, und das schweigsame und ausdruckslose Werwolfmädchen, die ägyptische Wölfin Nozomu, miteinander um die Hauptfigur Oyamada Kota konkurrieren, die aus einer Landstadt versetzt wurde.
Es ist ein Werk, das nicht auf der terrestrischen Welle ausgestrahlt wurde, weil es an einigen Stellen viele sexy Beschreibungen gibt. Es ist voller erotischer Inhalte.
Übersetzt mit www.DeepL.com/Translator (kostenlose Version)
Recommended :☆☆☆☆☆☆☆☆☆
Witchblade

引用:amazon.com
Dies ist eine Anime-Version eines beliebten amerikanischen Comics.
Die Hauptfigur Masane und ihre Tochter Rihoko werden Träger der geheimnisvollen und mächtigen Waffe "Witchblade", und das Werk schildert den Kampf um die Hexenklinge und das Band zwischen Masane und ihrer Tochter.
Es gibt viele Kampfszenen und weniger erotische Elemente.
Recommended :☆☆☆☆☆☆
Summary
What did you think?
There are many more anime with big boobed girls other than the ones introduced here.
However, if you are a boy, I don't think there are many girls with unrealistic boobs that you would admire.
If you've ever wanted to see a boobie anime, I hope you'll take a look at some of them!