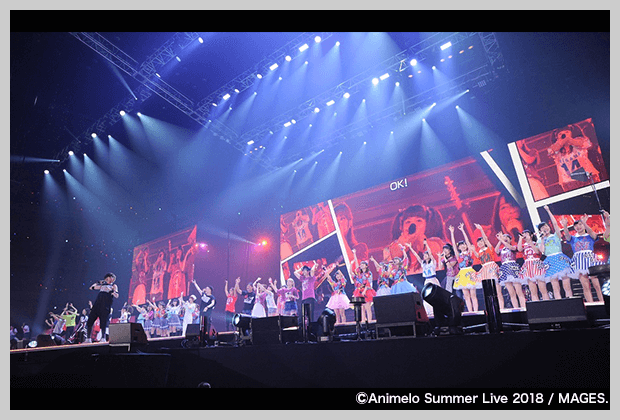 Anison which is a big genre that supports the Japanese music scene well now.
Various events are held all over the world.
This time, I tried collecting Anison live information which voice actors, Anison singer, artists gather.
I hope it will be the opportunity to know live being held all over Japan, until the live of a big live everyone knows or local specialization!
Animelo Summer Live
First of all, "Animelo Summer Live" is known as "Anisama".
It is the biggest event as Anison live which is held annually since 2005.
It will be held for three days from 2011 onwards. In total in 2018, more than 50 artists appeared in total, and the number of mobilization became about 80,000 people.
Animelo Summer Live Basic data
Event name: "Animelo Summer Live"
Date and time: Last Friday – August Sunday (held for 3 days)
Venue: Saitama Super Arena Stadium Mode (with change)
Performance style: raw band
Casting artists: From the fall of the previous year to the summer of the holding year Summer, artists who released active anison appeared (due to many exceptions, it is the standard of appearance only) A collaboration unit limited to "Anisama" and secret guests each day also appeared I will.
It is an event that realizes many collaborations beyond the belonging label company and the office wall.
The songs will be shown centering on the latest songs of that year.
Event space is separately provided within the hall. The audience participation type karaoke planning, business trip delivery of internet radio, "Anisama" is a variety of mini live calling guest artists who do not appear. .
There are lots of food courts and sales spaces for each company, and it can be said that it is a festival of animation songs.
Lisuani! LIVE
Next is "Lisuani! LIVE".
It is a music event sponsored by MOON ENTERTAINMENT CO., LTD., An animation song magazine "Lisuani!" There are multiple events sponsored by "Lisuani!", Which boasts the largest of its events.
It will be held for three days after 2017. In 2018, 17 groups of artists appeared in 3 days, and the mobilization number was about 24,000.
Compared to "Anisama", the number of casting artists is getting smaller. By doing this, it takes a long time to have one set of artists, making it a live show of more attraction.
Litsuani! LIVE basic data
Event name: "Lisuani! LIVE"
Date and time of opening: late January (Detail schedule varies depending on year)
Venue: Nippon Budokan
Performance style: raw band
Casting artists: From the previous year to the holding year, elected mainly artists who released animation songs. The songs will show off a wide range from the latest song of the year to the representative song of the artist.
There are several live organized "Lisuani!" "Lisuani! CIRCUIT" set in a live house, a small-scale DJ event "Lisuani! Night", and a male artist's only women's event "LisOeuf". We are holding occasional events targeting various customer segments.
KING SUPER LIVE
Next is "KING SUPER LIVE", commonly known as "Kinsupa".
This is an event organized by a major record company "King Record", an artist who has an affinity with "King Records" (such as having been enrolled or having released songs etc).
It is held in 2015, 2017 and 2018, and the concept and the venue and the date and time are different according to the year.
In 2018, in addition to Tokyo performances, he also gave a lecture in Taiwan and Shanghai, and the total number of employees in three performances was about 50,000.
KING SUPER LIVE basic data
Event name: "KING SUPER LIVE"
Date and time of holding: depending on the holding year
Venue: Depending on the host year (past venues: Saitama Super Arena, Nippon Budokan, Tokyo Dome)
Performance style: raw band
Casting artist: an artist with a boundary on "King record" (membership is not necessarily required)
The songs are not caught in the holding year, and will be shown mainly on representative songs of that artist.
"Kinsupa" holding a large event as a simple "King Record", an event focused on artists who are responsible for the next generation. It is a fun live event to imagine what kind of concept it will be held by year.
ANIMAX MUSIX
Next is "ANIMAX MUSIX", commonly known as "AMX"
We are also hosting live broadcasts in many countries including Asia, Europe, etc., taking advantage of the characteristics sponsored by TV, sponsored by animation specialized TV channel "Animax".
It has been held every year since 2009, two domestic venues in Osaka and Yokohama from 2016, and also overseas holding in 2018. In 2017, more than 10,000 mobilizers were recorded at each venue, and the scale of events held has been growing year by year and it is a live event.
ANIMAX MUSIX Basic data
Event name: "ANIMAX MUSIX"
Date and time of opening: late November (Osaka venue), late February (Yokohama venue)
Venue: According to the opening year (Osaka venue is Osakajo Hall from 2016, Yokohama venue is Yokohama Arena)
Performance style: raw band
Casting artists: Appearance mainly on artists representing voice events and voice actors. Depending on each venue the artists are different parts.
Various corners are prepared for "AMX" during the live. You can also see unexpected cover songs, such as DJ events during conversion, event selections that you can enjoy collaboration for that day only.
From 2017 the event 'ANIMAX MUSIX NEXTAGE' for new artists is also held. Depending on the questionnaire, a dragon-like event that allows appearances to "AMX" began.